Want Change? It's Time for New Habits!
We approach the start of not just a New Year, but a New Decade! We've been talking about this for a long time. Saying 2020 even sounds significant.
Overview of This Post
I start with a bit about Resolutions and Goals. Then look at the benefits of developing long term Habits. Habits are where the real differences are made in life.
Your Human Design chart helps clarify how You are Designed to incorporate Habits. I talk about a few specific chart aspects. Then I share personal examples of habits and how I benefit from them.
Resolutions? Or Not?
This is the time of year when people make Resolutions. In December and January, many individuals and businesses formalize the process and undergo long range planning.
Have You made Resolutions, then failed to follow through? If not formal Resolutions, have you set goals and made plans, then just not done what it takes?
I think this happens incredibly frequently, leading people to feel like they have failed.
Personally, I no longer make Resolutions, because that goals strategy doesn't work for me.
What About You?
Do you have things you want to accomplish? Changes you want to make?
Have you set goals and made plans?
Would you like a strategy for creating change that has an increased likelihood of success?
Learn about your Human Design chart!
Year-Round Habits
Real differences occur in my life through the actions that I take every day. Eating, sleeping, working, movement, …
However, for me, this rarely looks like me actually following my list of prescribed actions every day.
I used to give myself a really hard time about this. "Why can't I manage to do this regularly? What's the matter with me?"
I know that this is a super common experience. In conversations about this topic, here is what I say.
"If I did every day all of the things that I tell myself I 'should' do every day, it would be two full time jobs."
Walking, stretching, exercise, other self-care tasks. Bookkeeping, business-tasks, business planning. Organizing, cleaning. Reading. Spend time outside every morning to watch the sun rise. (Yeah, like that's happening.) And on and on and on. That is all in addition to cooking, eating, cleaning, sleeping, and oh yeah, work. The things that actually need to happen.
I can't even imaging a world where this would be possible for Me.
Since starting with Beautycounter, I have been remarkably consistent in doing facial care. I don't actually reach the goal of cleansing and moisturizing twice a day. But it's a major personal accomplishment that I get surprisingly close to the target. My skin definitely looks and feels better, and it's healthier.
What was required for me to get close to this skincare target? First, deciding that it matters to me. Then committing to following through, and making a workable plan.
Human Design & Habits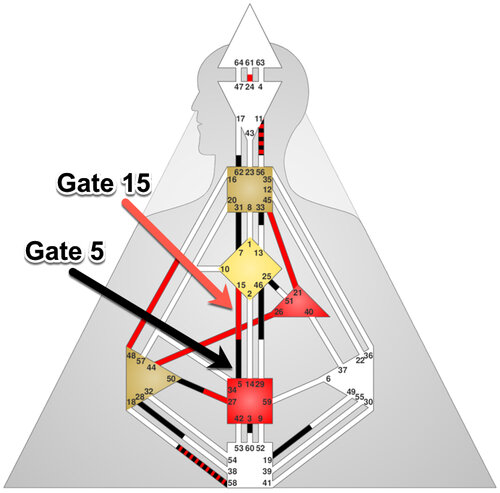 In their Human Design charts, some people have the Gate 5. The Gate of Patterns. This is energy for patterns, routines, and procedures.
Do you know someone who always follows the same daily routine? Wake up, turn the coffee on, toilet and teeth, dress, make and eat breakfast (perhaps the very same foods), read the paper, … and so begins each and every day. You can count on it. Regularity. Routine. Patterns.
If your chart has the Gate 5 Defined or colored, you might be one of those people. Once you decide that a particular habit is beneficial enough to merit adding it to your routine, you are likely to successfully implement it.
It is also possible that you aren't that routine-oriented. You may not be quite this precise in following your personal sequence of actions. But routines, patterns, and protocols are still likely to be significant in your life.
Each element of the Human Design chart is experienced along a spectrum.
Personally, I cannot imagine living like this. I have neither the Gate 5, nor the next energy, the Gate 15 Defined in my chart. So I just am not wired to operate this way.
The Gate 15 is the Gate of Extremes. With this Defined in your chart, you may take routines in different directions. You are still likely to benefit from habits that support your goals. But be aware that you may change up the specifics of your routines periodically.
Stress? Chaos?
If the Gate 5 or the Gate 15 is Defined in your chart, here's a bonus tip. If life becomes particularly chaotic or stressful, increasing the prominence of routines in your day may be calming and centering. The foundation of your routines provides stability that you can build upon.
Align Your Goals & Plans With Human Design
The Gates 5 and 15 are easily described in a short blog. However, there are many other aspects of the Human Design chart that impact the success that you may have in developing habits that support your goals.
Understanding how You are designed to most benefit from habits requires looking at your personal Human Design chart. CHARTS & READINGS
Charts are free. Click the button to go to my Charts & Readings page, where you can request your chart.
Contact Sandra to schedule a reading. It is my pleasure helping you lead a more fulfilling, satisfying life through understanding your chart! 
SANDRA'S CHART & HABITS
According to my Human Design chart, the choices that I make need to feel right. My gut feelings about following any habit need to be positive. I do well with body oriented actions. Making things better is a central theme in my chart. In some way or other, I'm always striving to make a difference.
HABIT BECOMES 'NORMAL'
Maintaining muscle mass is very important for metabolic health, and for bone density and strength. I do High Intensity Interval Training (HIIT). It supports me having either a class to attend, or an instructor to follow. I do a series of 20-minute, at-home, follow-along workouts! (If you want more information about this program, feel free to contact me. .)
I acquired a pull up bar, and work on pull ups. (More on that soon.) My husband now does HIIT with me. Fabulous! Adding a buddy makes consistently following routines SO much easier.
When away from home, I get off track with self-care routines. (Evidence of the absence of energies supporting routines from The Gates 5 and 15!) I'm away about a third of the time, and my consistency with HIIT definitely suffers. Then I'm back on-program upon returning home.
For me, this is what it looks like when a Habit becomes Normal. This is such a normal part of my life that I may get off the track, but I always get back on.
From a Human Design perspective, my gut feeling knows that this is the right things to do. It clearly both makes me healthy, and is body oriented. So this is in alignment with my Human Design.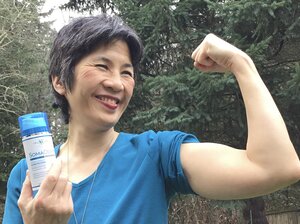 RESULTS!
The results are real! In May, I added a topical homeopathic HGH product that safely increases the amount of growth hormone in my body. This dramatically increased the results I get from HIIT. Before this product, HIIT was keeping me where I was. Which was definitely better than if I were not exercising. Now I'm beyond that and actually getting stronger!
On the second day, I noticed increased strength and endurance. After three months, I did the first unassisted pull up in my life! It's fabulous getting stronger with age, rather than weaker!
Contact me, if you have questions about this product. . Here is a link to my website about the product.
Take Action To Move Your Life Forward!
Stepping forward into a new Decade, what actions will you take? What Habits will support you?
If you feel inclined to share what you're up to, put it in the Comments!
Hits: 131