Fresh Is Best!
This month's blog explores what you eat, and how you might start choosing more foods to add vitality and deliciousness to your life.
Everyone knows that food choices matters. Unfortunately, we do not always consume foods that support our health goals.Eat a Variety of Foods – 5 min.Sandra Lee
Consider adding food variety! When was the last time you ate something completely new?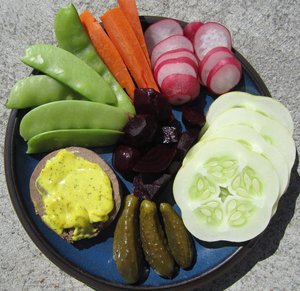 Simple Summertime Meal
Summer is an easy time to try new vegetables! Be adventurous!
Then I would appreciate hearing what you think. Leave a comment. Share what you're eating.
Thank you for reading the blog
Appointments, Assessments, Group Sessions
Would you like to see how you would benefit from my services? Click here to Book An Assessment.
To schedule appointments, please contact me.
It is a pleasure serving and supporting you.
Stay Tuned…
Breathe
Love,
Sandra Lee
Licensed Massage Therapist (WA State)
Biofield Tuning Practitioner
Human Design Specialist
Being Successful In Your Business
Are you ready for your business to get even better?
Whether you are seeking to resolve blocks to your thriving, or things are already terrific, consider Human Design and Biofield Tuning. Tuning fork sounds help to find energetic blocks then clear them, so energy flows through your business and your life.
Free yourself up to be happy, healthy, and successful. Breathe
Book An Assessment to see what's possible.
Sandra Lee
Sandra Lee has been a Licensed Massage Therapist for 29 years, and is now a Biofield Tuning Practitioner and Human Design Specialist.